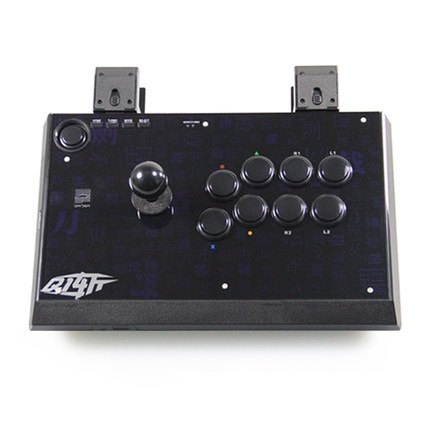 Qanba Q1 Cut PS3 PC arcade fightstick fight stick Black Sanwa
Model: 6955932301005
All countries
Product Description
Qanba Q1 Cut PS3 PC arcade fightstick fight stick Black Sanwa (PS4 Partially Compatible)
- Develop by the Qanba independent R&D team
- Build-in QANBA latest motherboard
- Vewlix Button Layout
Unique Mounting Mechanism
- Can be mount on any desktop edge less then 45mm in thickness
- Removable and adjustable mount
Compatible with PS3 and PC
Support TURBO Function
ABS Framework
Upgradeable
- All Internal wiring come with quick disconnect for future upgrade
Specification
Button: SANWA OBSF-30-W Button
Joystick: SANWA JLF-TP-8YT Joystick
System Buttons: Select Button, Home Button, Start Button, Mode Button, Turbo Button
Game Buttons: 8 SANWA Vewlix Layouts
USB Cable Length: 2m
Weight-bearing of Fixture: 36kg
Product parameters

Joystick

QANBA Sanwa JLF-TP-8YT Joystick


Button

QANBA Sanwa OBSF-30-W Button


Keys arranged

SELECT button, the HOME key START key, MODE key, TURBO keys and eight function keys (Vewlix keys arranged)

Frame

ABS Case


Panel

Mirror acrylic panel

Fixation

Double jig bite fixed / strip non-slip mats, silicone cover pad

Weight

2.7KG (with packaging)

Line length

2.0M

Fixture styles

Removable fixture, the biggest bite of 45mm

Fixture load-bearing

36KG
Product Features
Products compatible systems compatible PS3 console, computers, automatic identification procedures.
Computer, no drivers, computer systems automatically identify connection, plug and play.
Use QANBA latest motherboard, support firmware upgrade.
PC/PS3 mode to support joystick bursts bursts need to meet the specific game.
Product added hidden closing box design, increasing the portable performance.
Re-define the the START key bit position, and function keys are embedded design to prevent the occurrence of misuse.
The back of the product design a removable fixture kit, more accurate operation.
State have folders without folder, the rocker provides two operating angle selection. On the table at the same time there folder (placed in use) angle can adjust their own size.
After nearly a year of development and repeated tests, Qanba new generation Q1 fightstick is now listed on a grand Q1-Cut "fightstick is the combination of the crystallization of the wisdom and experience of a number of fightstick developers
Product design tend to portable adds powerful fixed way for some players who like to go to Internet cafes with fightstick, nothing more than a better choice.
Second, the "Cut" Joystick Chocolate Company epoch-making works, because every detail of Cut fightstick infiltrated the shadow of Qanba independent research and development, including all aspects of frame design, joystick, buttons, wire and motherboard all reflect Oanba has taken a solid step toward the road of independent innovation.
Fightstick humane aspects of many attempts, such as with a fixture on the desktop, automatically form a slant hand operation more comfortable. Joystick keys and function keys embedded design, to avoid misuse of the phenomenon in the game. Fightstick while fixtured, compatible with the non-slip pad design, the stick on the table, coupled with the fixture, fightstick weighs 5 pounds, plus the non-slip pads, fixed the same firm do not have to worry about that can not be fixed when gripping fightstick. Live fightstick configuration such as closing box, bursts are cut to be reflected on the qanba Q1 cut fightstick

Fightstick injection frame, follow-up, there will be more color panel, color frame for players to choose, fightstick DIY enthusiasts also have more space to play, internal wire plug design structure, dismantling maintenance compatible install most of the other brands rocker Whether you're a fightstick collectors or DIY enthusiasts, Q1-Cut are you worth buying products